How To Create An Email Signature With A Social Icon?
Besides including your company's name, address, and phone number, an email signature gives your business a more professional appeal.
The popularity of social networks like Facebook, Twitter, Instagram, and others has had a major impact on businesses in today's digitized environment. Businesses now understand the importance of these social platforms, and they have become more acceptable in today's world. As a result, it has become the business norm to have a company's email signature with a social media icon. Besides including your company's name, address, and phone number, an email signature gives your business a more professional appeal.
It's worth noting most businesses are using social networks to market their products and services. If you're not using social networks, the chances are that your rivals are leveraging the perks of marketing on social networks to gain a competitive advantage. Therefore, it makes a lot of sense that you also move in the same direction. While you might think that creating email signatures is difficult, it's very easy, thanks to the 500Mail tool that you can use. More about this is explained further on this page.
Creating Email Signatures With Social Icons Couldn't Be Simpler
Having your company's email signature with a social icon is a great way of discreetly asking your customers to follow you across different social networks. The right email signature will free your business from the need to carry out intensive marketing campaigns. Instead, your contacts will want to follow you and your business just because of how professional it looks.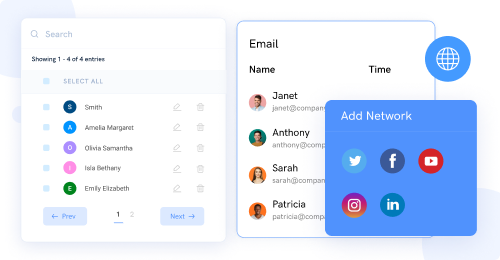 Adding an email signature attracts more followers your way and motivates your audience to engage with you. People find it easy to connect with you, and it shouldn't be surprising if they choose you over your rival brands.
Your social media presence will have an impact on your business. Engaging with your followers will play an important role in creating more leads. Increased activity on your social networks indicates that people talk about your products or services. This, in turn, can help your business grow.
Why Email Signatures Matter
You may be wondering why email signatures matter for your business. Well, email signatures for your company present you with the perfect opportunity to brand your messages. It speaks volumes about who you are as an entity. Competitive businesses value the importance of email signatures because it helps them build lasting relationships with their prospects. The following are solid reasons why email signatures matter a lot to your business.
Brand Recognition
Perhaps the best way to stand out from the competition in your industry is by branding yourself differently. Email signatures provide you with a great way of doing this. With every message you send, your prospects can know more about what you offer and how they can reach you.
Legitimacy and Professionalism
You also want to create a lasting impression in the minds of your followers. An email signature with a social icon will definitely get the attention of many. You will be marketing your business by simply sending out your emails. Besides providing crucial information about your company, email signatures sell your company's message in the most professional way.
Effective Email Marketing
Most businesses use email campaigns to market their businesses. Adding a signature with a social icon will even make email marketing more effective. The best part is that this is a cost-effective approach to raising awareness about your company and what you do. In addition, if your email messages are attractive, there is a good chance that people will like and share.
Digital Business Card
The email signature is essentially a digital business card. Gone are the days when people give out their business cards. While this might still work for some businesses, it's something that is slowly getting phased off in the market. So how do you want to present yourself to your prospects? Of course, you want to create a lasting impression by creating an appealing signature. A creative signature with a social icon will open doors to communicating with your prospective clients.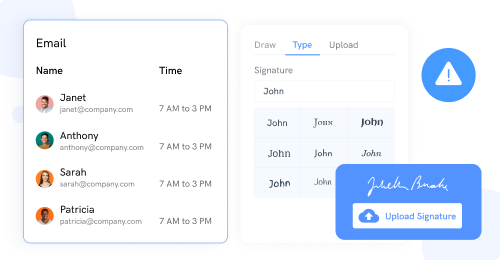 Links to Important Info
Another reason to use email signatures with social icons is that they provide quick links to valuable information about your business. Today, people seek convenience more than anything else. Your prospects want quick information about your company. With just a few clicks, they should be able to access your website, social media page, and the products/services you offer. You can modify email signatures to feature all the important information you want your prospects to access. Up your game by taking your communication to the next level by using email signatures with a social icon.
While these benefits of an email signature are enticing, it's worth noting that this tool should be complemented by CRM (customer relationship management) and other management tools. These tools will help you track how your customers interact with your products/services. So, besides creating an email signature for your business, you should consider integrating with other marketing tools to help your business thrive.
Introducing 500Mail
Why go through the hustle of manually creating an email signature when you could simply use 500Mail? 500Mail is a tool that does the job for you. Creating an email signature has never been this easy. You only need to input the information necessary to the tool, and everything else is done for you. The advantage of using 500Mail is that you can also incorporate your brand and logo into your signature.
500Mail has a simple interface that makes it easy for you to create your company's signature in minutes. Besides, there are other exciting features that the software comes with:
Secure Email
Unlimited mailboxes
Multiple domains
Mobile setup
App integration
IMAP and POP
Business email service
Attachment support
There's no doubt that 500Mail is the best emailing software for your business needs with all these features to use.
Using 500Mail To Create An Email Signature
When using 500Mail to create an email signature for your business, there are specific things you need to do. First, aim to understand how to use the software. Luckily, this tool is easy to use, so maneuvering through the different buttons shouldn't be a problem.
Another thing is that you need to determine the information you wish to include in the email signature. What do you want your prospects to know about your business? Include important details like company name, email address, company logo, and more. Keep the content plain and simple. You don't want to confuse your prospects by providing unnecessary details.
500Mail allows you to include social icons in your email signature. In addition, you can add any social media icon depending on the most active platforms. Adding these pages will help increase engagement and traffic to your social platforms.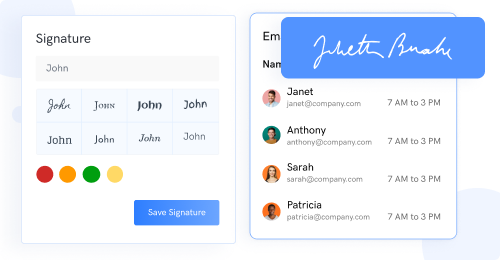 It would help if you also took advantage of the feature that allows you to add your company's brand and logo. This also helps to create a consistent brand image of who you are as a company.
Conclusion
Email signatures are your company's digital business card for your business email address. With this in mind, you should do your best to create a perfect signature that creates a lasting impression in the minds of your prospects. 500Mail does the job for you as you can take advantage of the unique features it offers you while creating your company's email signature.